Many changes occurred in the 20th century for the American people, including dramatically increased life spans, increased levels of education, and increased economic security in retirement from Social Security and other pension plans. A new class of citizens arose: educated retirees with health, time, and economic means.
Lifetime Learning (LL) organizations evolved to respond to the intellectual interests of this new class of seniors by offering non-credit course. Wellesley-Weston Lifetime Learning (WWLL), formed in 1976, is one of the oldest of these organizations (and one of the few not affiliated with an institution of higher learning). WWLL is entirely staffed and run by volunteers. To learn more about the history of WWLL and how it fits in with the LL movement, read the paper History of Wellesley-Weston Lifetime Learning.
For a general synopsis of WWLL today you can view the 8 minute video WWLL: Our Community.
In May 2016, WWLL held a 40th Anniversary Celebration which featured several speakers. It was videoed and is available for viewing in two segments:
Introductions by WWLL Directors Jill Strang and Joe Weisse, and Presentation Of Citations from the Massachusetts House and Senate by Representative Alice Peisch of Wellesley.
History of Wellesley-Weston Lifetime Learning by WWLL President Bruce Belason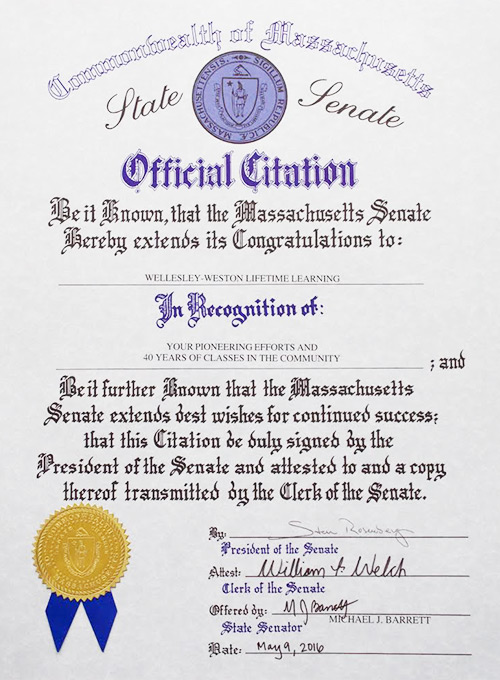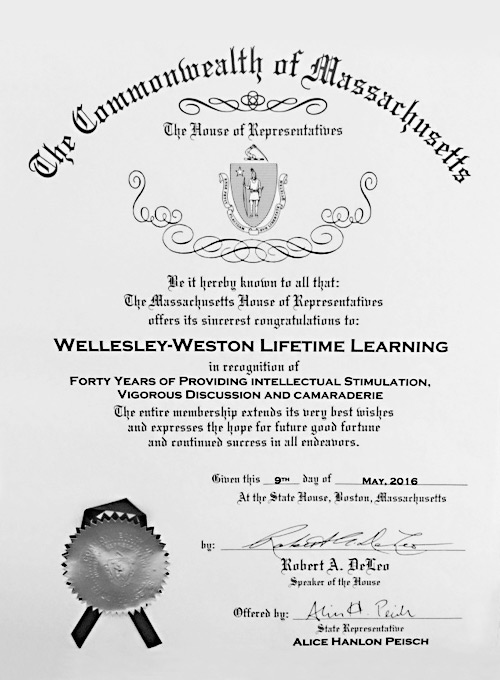 Following the presentations, a luncheon was held for WWLL students and teachers, past and present, and guests, exemplifying the high importance of the socialization and camaraderie aspects of participating in Lifetime Learning. The luncheon was so successful that it was decided to repeat it annually.